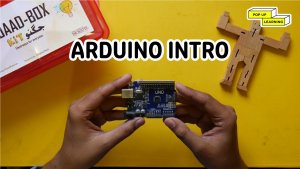 Arduino Starter Kit by Pop Up Learning is one of our most ordered products and we have created series of video tutorials which cover all the different components included in our Arduino Starter Kit.
The video series assumes that we are starting from scratch and takes you on the journey to learn Arduino while also taking the time to give you some basics about electronic circuits and components.
1: Introduction, What is Arduino
2: What's in the Box – Arduino Starter Kit
Arduino Starter Kit by Pop Up Learning Contents
Arduino UNO with USB Cable
Breadboard
Arduino and Breadboard Holder
LEDs
Resistors
Push Button and Switches
Trimpot (Variable Resistor) and Light Dependent Resistor (LDR)
Buzzer and 9V battery Clip with DC Jack
3: Setup Arduino and Breadboard
Fixing the Arduino and breadboard on a base plate is very important for beginners as it saves the Arduino from short circuits and also provides a fixed working area, so the wires dont get lose and lets you store your Arduino with the project and take it anywhere easily without the circuit coming apart.
4: Arduino Software and Driver Installation
Now that the Arduino is ready, we install the required software and drivers to use the Arudino board with our computer / Laptop
Relevant Software download Links
5: Arduino Software Settings
Lastly, for part 1 of the Arduino Tutorial Series blog post, let's do some settings for the Arduino IDE software so it is easier to use.
If you haven't got an Arduino UNO and some LEDs/resistors and other components lying around, get one today and start learning about electronics, programming, coding all in one with this Pop Up learning Arduino Starter Kit.