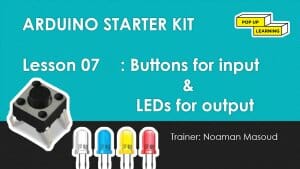 Buttons ko istemaal kar kay LEDs aor doosri cheezoon ko chalana aor rokna!
Let's use buttons to make LEDs Light up and make other things work or stop!
In this lesson, we will use a button to control the light of an LED – We will see different ways to use the button in Lesson 7 A and Lesson 7 B.
CODE TO DO
SCHEMATIC TODO
If you have any questions, queries or comments, please post a comment here or on our Pop Up Learning Network group https://www.facebook.com/groups/PopUpLearningpk