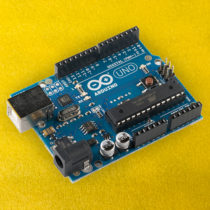 Arduino boards are open-source programmable circuits that allow easy electronics prototyping and ability to make amazing interactive projects using sensors, motors, lights and sounds. Arduino is designed to be easy to use with many modules available for different types of projects, an easy programming language and interface and simplified software.
The Arduino UNO is the most famous and commonly used Arduino board all over the world. It has 14 Digital I/O pins, 6 Analog Pins and many built-in features and peripherals for making awesome projects and robots.
We have an Arduino Uno in our Pop Up Learning Starter Kit as well, which has all the necessary components to get you started with learning Arduino and making projects, check it out at Arduino Starter Kit.